How to use
Click Smartphone mode on Menu.

Set up parameter and camera option.
Click orange start button to start taking pictures.
Parameter setting
Please check the below to set up the parameter.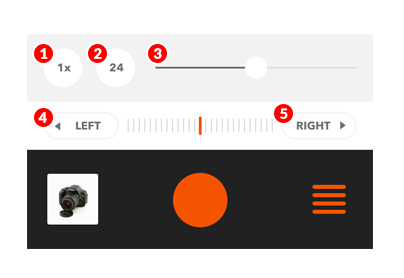 Speed : Rotation speed. Choose a desirable rotation speed depending on the subject's weight.
Frame : Choose the total number of photos. We recommend 24 or 36 frame setting for sharing online.
Halo Edge : Control the Halo Edge light brightness. It helps you to create a clean image with camera brightness function.
Rotate left : Rotate the turntable to left direction manually.
Rotate right : Rotate the turntable to right direction manually.
Camera setting
You can set the camera option on the upper menu bar of Foldio360 app.


Exposure : Control exposure. You can also control the exposure by swiping the screen up and down. This function helps you to create a clean image by  using halo edge function together.  (For Android phones, the result of exposure can be different depending on the manufacturing company.)
Color(ios only) : Control color temperature. You can alos control the color temperature by swiping the screen left and right.
Grid : Grid on/off
Gyro : This function helps you check the horizontal balance by using gyro sensor.
Help : It shows the description of screen.