Control panel
[Top]

Brightness : Change the brightness. You can also change it by swiping the screen up and down.
Color temperature : Change the color temperature. You can also change it by swiping the screen left and right.
Grid : It helps to set the subject on the center of screen.
Horizontal axis : It helps to check the horizontal balance.
Help : Help center
[Bottom]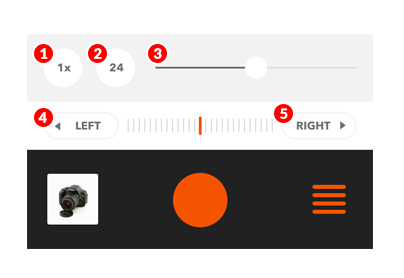 Speed : Rotation speed. x3 rotation speed is used generally for the smartphone mode.
Frame : Choose the total number of photos. 24, 36, 48 frame are available. We recommend 24 or 36 frame setting for sharing online.
Halo Edge : Control the Halo Edge light brightness. It helps you to create a clean image with camera brightness function.
Rotate left : Rotate the turntable to left direction.
Rotate right : Rotate the turntable to right direction.